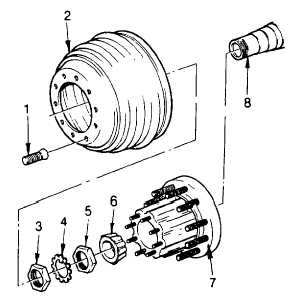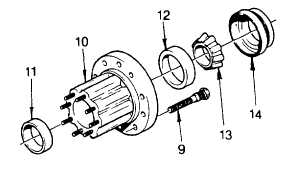 TM 5-4210-220-12
4-30.  REAR AXLE - Continued
(6)
Install outer locknut (3) and tighten to a torque of 260 ft lb (350 Nm).
(7)    Repeat wheel rotation in both directions.  Rotation should be free with an end play of 0.001 to 0.010 in.
(0.03 to 0.25 mm).
(8)
When adjustment is complete, secure locknuts by bending a tab on lockwasher (4) over a flat on each
locknut (3 and 5).
(9)
Install axle shaft as detailed in para. 4-30.2.
REPLACEMENT
(1)
Relieve parking brake pressure and adjust
slack
adjuster
to
provide
clearance
between  brake  shoes    and    brake    drum,
see  para. 4-30.4, ADJUSTMENT, step 3.
(2)
Remove inner wheel nuts (1) and remove
brake drum (2).
(3)
Straighten locking tabs on lockwasher (4)
and remove outer locknut (3), lockwasher
(4), and inner lock nut (5).
(4)
Remove outer bearing (6) from spindle (8)
and remove complete hub assembly (7).
(5)
Remove oil seal (14) from inner bearing in
hub assembly.
(6)
Inspect   spindle   (8)   for   damage.      Minor
nicks   and   burrs   may   be   removed   but
otherwise  no  repair  should  be  done.    If
spindle
is
seriously
damaged,
the
complete axle housing must be replaced.
(7)
Inspect hub assembly.  If badly damaged
or   cracked   or   bearing   cups   cannot   be
removed     (see     step     8)     replace     hub
assembly.
(8)
If  bearings  require  replacement,  replace
bearing and bearing cups.  Remove cups
from hub using a suitable press.
(9)
If new hub is used, press bolts (9) in hub
(10).
NOTE
Use left hand threaded bolts (9) in
left  hub  and  right  hand  threaded
bolts in right hub.
4-563