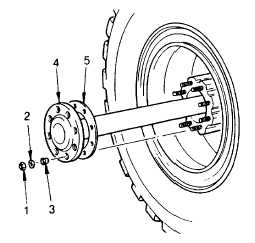 TM 5-4210-220-12
4-30.  REAR AXLE - Continued
4-30.2 Axle Shaft
This task covers
a.    Replacement
TOOLS
MATERIALS/PARTS
Shop Equipment, Automotive
28, Appendix E Silicone Sealant
Maintenance and Repair,
113503 Axle Shaft
NSN 4910-00-754-0705
13886 Gasket
13885 Dowel
EQUIPMENT CONDITION
Main Engine Shutdown (see para. 2-10)
APU Shutdown (see para. 2-12)
Batteries Disconnected (see para. 4-24.12)
Wheels Blocked
Axle Oil Drained (see LO 5-4210-220-12)
REPLACEMENT
WARNING
Accidents  causing  serious  or  fatal  injuries  may  occur  unless  the  truck  is  supported  by
maintenance trestles.  Never rely on hydraulic jacks or mechanical lifting devices for support.
CAUTION
Metal  particles  and  debris  from  a  failed  component  may  cause  failure  of  other  components.
To  reduce  the  chance  of  additional  axle  failures,  drain  and  clean  axle  housing  cavities  as
necessary and replace the lube oil.
NOTE
This    procedure    is    common    to
both   left   and   right   wheel   ends.
Unless removal and installation of
axle  shaft  is  required  for  removal
of  hub  or  brake  components,  the
rear wheel(s) may remain installed.
(1)
Jack   affected   wheel   end   until   wheel   is
clear of the ground.  Support raised wheel
end on a maintenance trestle.
(2)
Remove  nuts  (1),  washers  (2),  and  taper
dowels.
(3)
Using   a   brass   drift   and   hammer,   strike
axle
shaft
flange
in
the
center,
if
necessary, to loosen dowels.
4-560