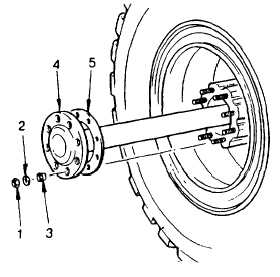 TM 5-4210-220-12
4-30.  REAR AXLE - Continued
(3)
Remove   axle   shaft   (4)   and   gasket   (5).
Discard gasket.
(4)
If  axle    shaft    is  broken,    remove    nuts
and    lockwashers    (7    and    8)    attaching
differential cover (9).  Remove cover.
(5)
Through    the    open    differential    housing,
remove the broken axle shaft piece.
NOTE
If damage to differential is noticed
or    a    broken    axle    shaft    piece
cannot  be  removed,  notify  Direct
Support Level for assistance.
(6)
Clean  differential  housing  and  remove
any debris.
(7)
Clean     housing     and     differential     cover
flanges  of  old  sealant  and  apply  a  thin
coat
of
silicone
sealant
(item
28,
Appendix E) to cover flange.
(8)
Install housing cover (9) using lockwasher
(8) and nuts (7).  Tighten nuts to 135 ft lb
(180 Nm).
(9)
Relieve parking brake pressure, see para.
4-30.4, so that wheel is free to turn.
(10)
Install  new  gasket  (5)  and  axle  shaft  (4).
Turn  wheel  as  necessary  to  enable  shaft
spline to mate with differential, and holes
in shaft flange to aline with hub studs.
(11)
Install  taper  dowels  (3),  washers  (2),  and
nuts (1).  Hand tighten nuts.
(12)
Reapply  parking  brake  spring    pressure,
see  para.  4-30.4  and  tighten  nuts  (1)  to
120 ft lb (160 Nm).
(13)
Raise   wheel   and   remove   maintenance
trestle Lower and remove jack.
(14)  Install drain plug (6) and fill axle with fresh
oil, see lube order LO 5-4210-220-12.
4-561