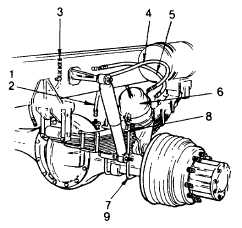 TM 5-4210-220-12
4-30.  REAR AXLE.
4-30.1 Axle Assembly.
This task covers
a.    Removal
b.    Inspection
c.    Installation
TOOLS
Shop Equipment, Automotive
MATERIALS/PARTS
Maintenance and Repair
22, Appendix E Pipe Sealant
NSN 4910-00-754-0705
29, Appendix E Threadlock Liquid
100031-04 U-Bolt
100031-05 U-Bolt
MS27183-23 Washer
310424 Nut
EQUIPMENT CONDITION
Main Engine Shutdown (see para. 2-10)
APU Engine Shutdown (see para. 2-12)
Batteries Disconnected (see para. 4-24.12)
PERSONNEL REQUIRED - 2
Wheels Blocked
Pump Body and Hose Body Heat Shields
Removed (see para. 4-11)
Rear Wheels Removed (see para. 4-23.1)
Rear Axle Drive Lines Removed (see para. 4-26.3)
Hose Reel Cover Removed (see para. 4-14.1)
Air Tanks Drained
REMOVAL
WARNING
Accidents causing serious or fatal
injuries    may    occur    unless    the
truck  is  supported  by  maintenance
trestles.    Never  rely  on  hydraulic
jacks or mechanical lifting devices for
support.
(1)
Tag  and  disconnect  air  lines  (1  and  2)
from  rear  axle  air  shift  units  (differential
lock and 4X4 drive).
(2)
Remove capscrew attaching axle breather
(3)    to    frame    and    temporarily    attach
breather to axle with masking tape.
(3)
Tag and disconnect air hoses (4 and 5) from both left and right brake chambers (6).
(4)
Scribe spring plates (8) with alinement marks.
(5)
With  trolley  jack  supporting  differential  housing,  remove  nuts  (7)  and  U-bolts  (9).    If  nuts  and  threaded
sections  of  -bolts  are  too  corroded  to  permit  disassembly,  flame  cut  the  U-bolts  (6).    Lower  jack  and
remove axle from beneath truck.
(7)
Disconnect vent line from axle housing if new axle is being installed.
4-558