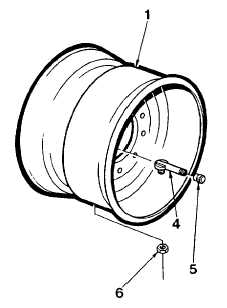 TM 5-4210-220-12
4-29 WHEELS AND TIRES - Continued
INSTALLATION
(1)
Install   valve   stem   (2)   in   rim   (1)   and
tighten nut (4) securely.
(2)
Place rim on wooden blocks.
(3)
Lubricate   bead   and   rim   with   tire   bead
lubricant (item 30, Appendix E).
(4)    Place  tire  on  top  of  rim.    Move  tire  until
part of lower bead is resting between rims
of wheel.
(5)
Insert   tire   iron   between   wheel   rim   and
lower tire bead.  Lever bead over rim.
(6)
Force  part  of  top  tire  bead  over  edge  of
rim.    Insert  tire  iron  between  wheel  rim
and  top  tire  bead.    Lever  the  bead  over
rim.
WARNING
To avoid personal injury, never stand close to tire while inflating, install in safety cage.
(7)
Inflate tire to a maximum pressure of 90 psi (620 kPa) and ensure tire bead is seated on the rim.
(8)
Adjust to the operating pressure of 70 psi (480 kPa) and fit valve cap (3).
(9)    Install wheel on truck as detailed in para. 4-29.1.
4-557