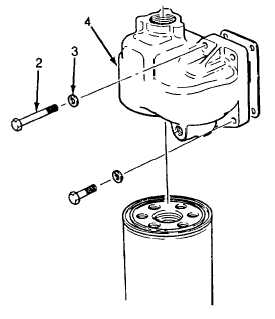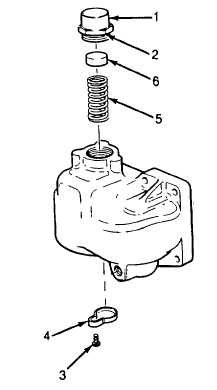 TM 5-4210-220-12
4-28   ENGINE - Continued
b.  Filter Cover Replacement
(1)      Carry   out   Filter   Cartridge   Replacement
steps 1 and 2.
(2)    Remove  capscrews  (2)  and  washers  (3)
securing filter cover (4) to engine block.
(3)    Remove  and  discard  old  gasket  (5).    Be
sure  to  remove  all  material  from  engine
block.
(4)  Line up new cover and gasket with engine
block mounting holes.
(5)    Attach  to  engine  using  capscrews  (2)  and
washers (3).
REPAIR
NOTE
Repair  to  the  mounting  block  consists
of replacing the pressure relief valve.
(1)  Remove the plug (1) and gasket (2), or the
screw (3) and retainer (4) and withdraw the
spring (5) and bypass valve (6).
(2)    Clean  and  inspect  the  parts  for  wear.    If
necessary, install new parts.
(3)    Reassemble  and  install  the  bypass  valve.
Tighten the bypass valve plug to 105 ft lb
(143 Nm).
4-529