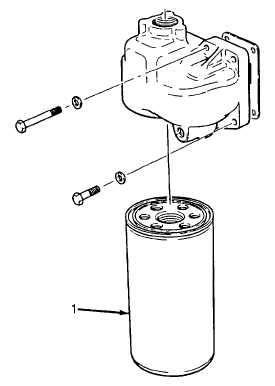 TM 5-4210-220-12
4-28.  ENGINE.
4-28.1   Old Filter
This task covers
a.
Replacement
b.
Repair
TOOLS
Tool Kit, General Mechanic, Automotive,
NSN 5180-00-177-7033
EQUIPMENT CONDITION
Main Engine Shutdown (see para. 2-10)
RH Engine Cover Removed (see para. 4-12.11)
Pump Body and Front Heat Shield Removed
(see para. 4-11)
Turret Water Discharge Pipe Removed (see para.
4-18.2)
MATERIALS/PARTS
17, Appendix E Lubricating Oil
25010495 Oil Filter
8924896 Gasket
NOTE
The main engine oil filter is mounted on the front right hand of the engine.
REPLACEMENT
a.  Filter Cartridge Replacement
(1)  Unscrew the filter (1) using a filter removal
tool.
(2)  Remove from the engine and discard in a
combustible waste area.
(3)      Coat   the   seal   gasket   of   a   new   filter
cartridge   lightly   with   clean   oil   (item   17,
Appendix E).
(4)    Install  the  cartridge  and  tighten  it  to  one-
half turn beyond gasket contact.
(5)        Check    main    engine    oil    level.        Top
up/replace oil as required.
(6)      Start   the   engine   and   check   for   leaks.
Tighten   the   filter   as   required.      Recheck
engine oil level.
4-528