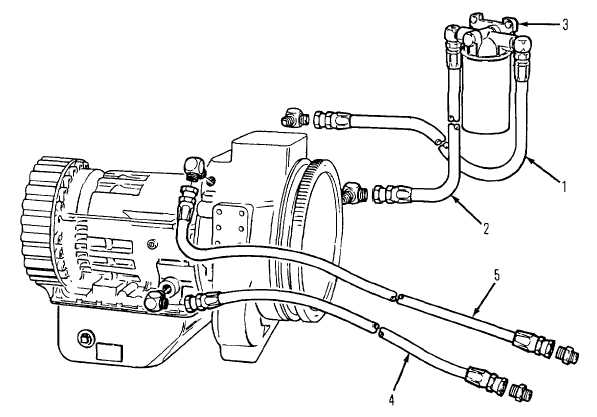 TM 5-4210-220-12
4-27.  TRANSMISSION
4-27.1 Transmission Cooling and Filtration System
This task covers
Replacement
TOOLS
MATERIALS/PARTS
Tool Kit, Master Mechanic,
9, Appendix E Dexron II
NSN 5180-00-699-5273
25, Appendix E Pipe Sealant
FC-300-16 Hose
EQUIPMENT CONDITION
190261-16S Elbow Swivel
Main Engine Shutdown (see para. 2-10)
411-165 Connector Swivel
A.P.U Shutdown (see para. 2-12)
2021T-16-12S Connector, Hose-NPT
Batteries Disconnected (see para. 4-24)
2062T-16-16S Elbow, O-ring
Cab and Pump Body Heat Shields Removed
102293 Elbow, O-ring
(see para. 4-11)
102294 Elbow, O-ring
25010643 Filter
REPLACEMENT
(1)
Place suitable containers underneath transmission to drain oil from hoses and transmission.   If complete
oil change is necessary, remove transmission pan and torque converter plug.
(2)
Tag  and  remove  oil  filter  hoses  (1  and  2)  from  filter  base  (3)  and  transmission.    Place  on  clean
workbench area for complete cleaning and inspection.
4-520