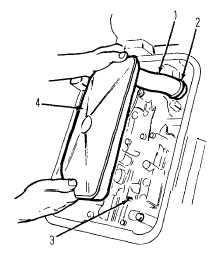 TM 5-4210-220-12
4-27.  TRANSMISSION - Continued
(3)
Remove filter cartridge and discard.
(4)
Remove elbow fittings on filter base or transmission if fittings or O-rings are damaged.
(5)
Tag and remove hoses (4 and 5) to and from radiator cooler exchanger.
(6)
Place hoses on clean workbench area for complete cleaning and inspection.
(7)
If any hose was leaking or is found to be faulty during inspection refer to para. 4-9 to manufacture new
hose.
WARNING
Dry  cleaning  solvent  P-D-680  (safety  or  Stoddard's  solvent)  is  potentially  dangerous.   Avoid
repeated and prolonged breathing of vapors and skin contact with the liquid.  Do not use near
open  flame,  arcing  equipment  or  other  ignition  sources.    Always  wear  eye  protection  and
protective clothing.  The flash point of P-D-680 is 100 to 138 deg. F (30 to 59 deg. C).
(8)
If original hoses are to be reused, flush hoses thoroughly with dry cleaning solvent (item 10, Appendix E)
before installing.
(9)
Install filter and cooling hoses.  Ensure there are no kinks or twists in hose assemblies.  Be sure they are
at least 1 in. (2.5 cm) away from any moving or hot parts.
(10)
Lubricate  filter  seal  ring  with  transmission  oil  (item  9,  Appendix  E)  and  install  new  filter  cartridge.
Tighten filter 3/4 turn after filter seal contacts its seat.
(11)
If  transmission  internal  suction  screen  is  to  be  inspected
and   cleaned,   remove   23   bolts   that   retain   oil   pan   to
transmission housing.  Discard pan gasket.
(12)
Remove suction screen retaining bolt, washer, and spacer.
Inspect  screen  (4)  for  damage.      Replace  or  wash  filter
screen assembly.
(13)
Install  new  seal  ring  (2)  on  intake  pipe  (1).    Secure  filter
assembly.  Remove, clean, and reinstall governor feed line
screen (3) in valve body.
(14)
A sealer or cement (item 6, Appendix E) may be applied to
the  pan  flange  area  that  is  outside  the  raised  bead  of  the
flange.  Place new oil pan gasket onto the oil pan.
(15)
Install oil pan and gasket to transmission.  Tighten screws to 13 ft lb (18 Nm).
(16)
Pour  in  approximately  55  qt  (52  L)  of  new  Dexron  II  (item  9,  Appendix  E).    If  during  oil  level  check
procedure,  inconsistent  dipstick  readings  occur,  look  for  improper  venting  of  transmission  breather.
Always check oil level on dipstick at least twice.
4-521