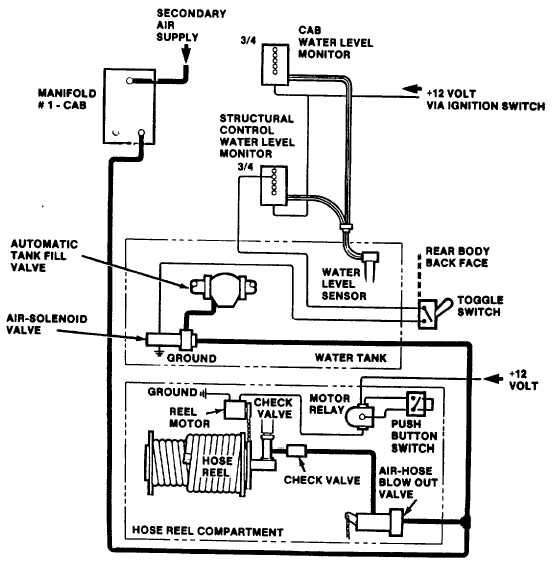 TM 5-4210-220-12
1-19.  FIREFIGHTING SYSTEM.  - Continued
g.  Hose Reel and Automatic Tank Fill Control.
(1)    The  hose  reel  is  provided  with  an  electric  motor  drive  to  rewind  the  fire  hose  after  use.    The  motor  is
energized via a motor relay actuated from a push button switch located externally on the rear body panel, (see fig. 1-41)
A drain valve in the hose reel supply line enables draining of residual water after firefighting Removal of residual water
from the fire hose prior to rewinding is accomplished using the air blow-out valve.
(2)  The rear tank fill port is-equipped with an air-operated automatic tank fill valve.  Air pressure to keep this
valve closed is provided via a normally-open solenoid-controlled air valve.  The solenoid is connected to the water level
monitor  3/4  full  indicator.    It  is  energized  when  the  switch  is  set  to  ON  and  the  water  level  is  below  3/4  full.    When
energized,  air  pressure  to  the  automatic  tank  fill  valve  is  shut  off  and  the  valve  is  open.   The  tank  fill  valve  is  closed
whenever the switch is set to OFF or the tank level is at or above 3/4 full provided that air pressure is available.
Figure 1-41.  Hose Reel and Automatic Tank Fill Control
1-48