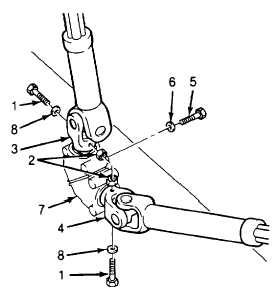 TM 5-4210-220-12
4-25 STEERING SYSTEM - Continued.
4-25.7 Miter Box
This task covers
a.
Replacement
TOOLS
Tool Kit, General Mechanic, Automotive,
NSN 5180-00-177-7033
EQUIPMENT CONDITION
Main Engine Shutdown (see para. 2-10)
APU Engine Shutdown (see para. 2-12)
Battery Switch OFF
MATERIALS/PARTS
7524553 Miter Box
MS51922-17 Locknut
NOTE
The miter box cannot be repaired.  Replace if damaged.
REPLACEMENT
(1)
Remove steering shaft cover.
(2)
Remove  screws  and  nuts  (1  and  2)  and
pull   steering   shaft   yokes   (3   and   4)   off
miter box shafts.
(3)
From     underneath     the     truck,     remove
screws    (5)    and    washers    (6)    attaching
miter box (7) to cab.  Remove miter box.
(4)
Inspect    new    miter    box.        Check    that
backlash  in  gears  are  barely  noticeable
when attempting to turn shafts counter to
each other.
(5)
Install   miter   box   using   screws   (5)   and
washers (6).  Tighten screws securely.
(6)
Be  sure  steering  shafts  are  phased  as  shown  and  slide  yokes  (3)  and  (4)  onto  miter  box  shaft  splines.
Secure using screws, washers and nuts (1, 8, and 2).
(7)
Check that steering wheel is centered when the front wheels are positioned straight ahead and pitman arm
is square to steering gear axis.
(8)
Change position of yoke on steering gear shaft, if necessary, to accurately center steering wheel.
(9)
Tighten nuts (2) to 40 ft lb (55 Nm).
4-496/(4-497 Blank)