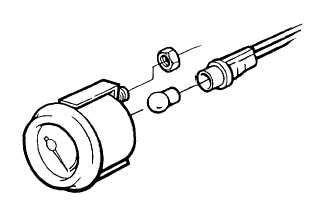 TM 5-4210-220-12
4-24.  ELECTRICAL SYSTEM - Continued
4-24.5 Instrument Control Panel Lights.
This task covers
Replacement
TOOLS
Tool Kit, General Mechanic, Automotive,
NSN 5180-00-177-7033
EQUIPMENT CONDITION
Main Engine Shutdown (see para. 2-10)
APU Shutdown (see para. 2-12)
Batteries Disconnected (see para. 4-24)
MATERIALS/PARTS
#1816 Bulb
#1893 Bulb
DWG 114-FF Lens Hi Beam
DWG 114-BE Lens Indicator
G 3-1/2 Bulb
AA23 Lens Level Monitor Green
AA31 Lens Level Monitor Red
AA32 Lens Level Monitor Amber
#1889 Bulb
#255 Bulb Flashing
NOTE
Some  cab  instrument  control  panel  lights  are  similar.    Similar  lights  are  grouped  together  in  the  following
instructions to simplify the manual.
REPLACEMENT
(1)
If the bulb that has failed is a gage backlight, refer to para. 4-24.4 to gain access to the back of the gage.
Replace bulb as shown in the illustration
(2)
For all other bulbs used on instrument panel, replace lights as shown in following illustrations
4-430