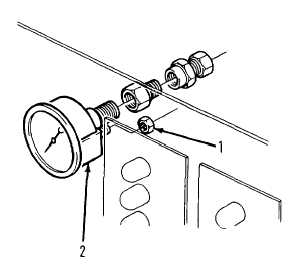 TM 5-4210-220-12
4-24 ELECTRICAL SYSTEM - Continued
(7)
Remove nuts (1) and clamp (2) and lift gage from panel.
(8)
Remove fitting from gage.
(9)
Install fitting on new gage.  Coat threads with pipe sealant (item 22, Appendix B) prior to installation.
(10)
Install new gage in panel.  Ensure bezel fits snugly against plate.
(11)
Install new nuts (1) and clamp (2).  Tighten nuts.
(12)
Connect water line to gage as tagged.
(13)
Fold back instrument panel and retain with 12 machine screws.
(14)
Start main engine and fire pump as detailed in.  Chapter 2 (CFR or structural mode).
(15)
Check pressure gage or level monitor function correctly.
4-429