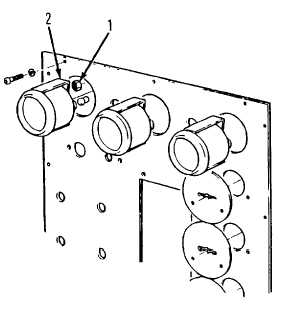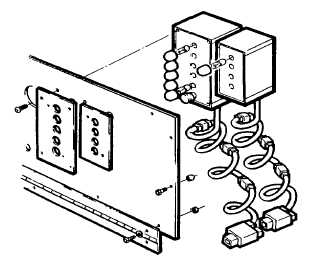 TM 5-4210-220-12
4-24.  ELECTRICAL SYSTEM - Continued
4-24.4 Instrument Control Panel Instruments - Continued.
b.
Cab Air Panel Gages Replacement - Continued
(6)
Remove fittings from gage.
(7)
Install   fitting   on   new   gage.      Coat   pipe
threads     with     pipe     sealant     (item     22,
Appendix B) prior to installation.
(8)
Install  new  gage  in  panel.    Ensure  bezel
fits snugly against plate.
(9)
Install    new    nuts    (1)    and    clamp    (2).
Tighten nuts.
(10)
Connect air line to gage as tagged.
(11)
Aline   dash   panel   on   instrument   panel
frame and install 12 machine screws.
(12)
Connect  batteries  and  start  main  engine.    Check  pressure  gages  for  correct  readings  as  air  system  is
charged.  When fully charged, all gages should indicate 105 - 110 psi (720 - 760 kPa).
c.
Cab Fold-down Panel Gages Replacement
NOTE
This instruction details replacement of the level monitors and pressure gages on the cab fold-down panel.
(1)
Remove 10 machine screws from top and
sides  of  fold-down  panel  and  pull  panel
upwards from top.
(2)
To  replace  either  level  monitor,  tag  and
remove wires from monitor and remove 2
screws from bezel plate.
(3)
Lift off bezel and remove monitor.
(4)
Aline  new  monitor  and  bezel  plate  with
holes on panel.  Install 2 screws to attach
level monitor to panel.
(5)
Connect   wires   to   monitor   as   tagged   in
step  2  preceding.    For  test,  see  step  13
following.
(6)
To    replace    pump    discharge    pressure
gage,  tag  and  disconnect  water  line  from
back of gage.
4-428