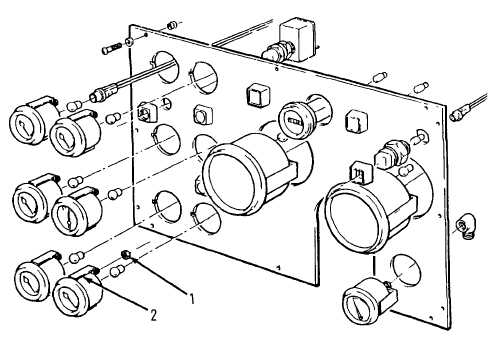 TM 5-4210-220-12
4-24.  ELECTRICAL SYSTEM - Continued
4-24.4 Instrument Control Panel Instruments.
This task covers
Replacement
TOOLS
Tool Kit, General Mechanic, Automotive,
NSN 5180-00-177-7033
EQUIPMENT CONDITION
Main Engine Shutdown (see para. 2-10)
APU Shutdown (see para. 2-12)
Batteries Disconnected (see para. 4-24)
MATERIALS/PARTS
530C0/46668 Tachometer
512S2-47510 Speedometer
Model Z-30 Air Filter Gage
15002-3 Hourmeter
82707 Trans Temperature Gage
82712 Fuel Level Gage
284AD Ammeter
82709 Voltmeter
82705 Engine Oil Pressure Gage
82702 Engine Water Temp Gage
82710 Air Pressure Gage
AM-2 Water Tank Level Monitor
A4-2 Foam Tank Level Monitor
J726.4P Pump Discharge Pressure Gage
NOTE
Some cab instruments are similar to each other.  Similar instruments are grouped together in the following
instruction to simplify the manual.
4-426