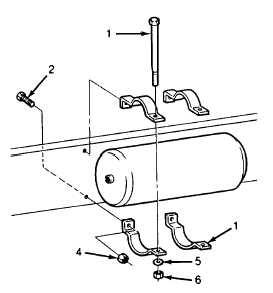 TM 5-4210-220-12
4-22.  AIR SYSTEM
4-22.1  Air Tanks
This task covers
a.
Removal
b.
Inspection
c.
Installation
TOOLS
MATERIALS/PARTS
Tool Kit, General Mechanic, Automotive,  
22, Appendix E Pipe Sealant
NSN 5180-00-177-7033
EQUIPMENT CONDITION
PERSONNEL REQUIRED - 2
Main Engine Shutdown (see para. 2-10)
APU Shutdown (see para. 2-12)
Batteries Disconnected (see para. 4-24)
Truck Wheels Blocked
All Air Tanks Drained
WARNING
Death or serious injury could occur if compressed air is directed against the skin.  Always drain the air
tanks via the draincocks prior to removal.
NOTE
This is a generalized procedure for removal of any (of four) air tanks.
To access the PRIMARY tank remove left rear wheel (see para. 4-29.1) and pump access panel in
lower left hose body compartment.
To  access  the  SECONDARY  tank  remove  pump  body  and  hose  body  heat  shield  (see  para.  4-11.)
and right rear wheel (see para. 4-29.1).
To access the EMERGENCY or FAST air tank remove the small skid plate in front of the front axle.
REMOVAL
(1)
Tag  and  remove  all  hoses  connected  to  the  air
tank  being  removed.    Do  not  remove  any  fittings
or valves while tank is installed on the truck.
(2)
Remove   both   capscrews   (1),   washers   (5),   and
nuts (6).
(3)
Where  possible  loosen  capscrew  (2)  and  nut  (4)
on at least one of the support clamps (3) on each
end of the tank.
(4)
Slide  the  tank,  if  necessary  bending  the  support
clamps, and remove from the truck.
4-340