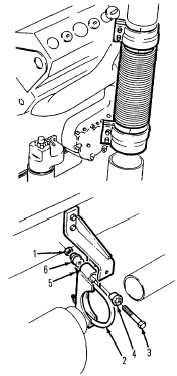 TM 5-4210-220-12
4-21.  EXHAUST SYSTEM - Continued
b.
Seal Clamp Replacement.
(1)
Remove  clamp  from  either  end  of  flexpipe.    If
nuts   are   severely   corroded,   cut   band   using   a
hacksaw.
(2)
Separate flexpipe from tube and insert new clamp
over flexpipe.  Push flexpipe onto tube.
(3)
Tighten clamp nuts to 30 ft lb (41 Nm).
c.
Support Bracket and Clamp Replacement.
NOTE
The  hanger  assembly  on  each  end  of  the  muffler  are
similar.      Use   following   procedure   to   remove   either
hanger.
(1)
Remove hose body, heat shield, see para. 4-11.3.
(2)
Support weight of muffler on a floor jack.
(3)
Remove nut (1) and capscrew (3).
(4)
Remove nuts (5) from clamp.  If nuts are severely
corroded cut clamp U-bolt.
(5)
Tap bolt (3) out of support bracket.
(6)
If support bracket is damaged, undo nuts and bolts attaching support bracket to frame.  Replace
support bracket and tighten new nuts and bolts to 30 ft lb (41 Nm).
(7)
Fit shock rubbers (6) in new clamp weldment.
(8)
Tap bolt through support bracket and clamp weldment.  Smear petroleum jelly (item 21, Appendix E)
onto bolt to ease assembly.
(9)
Push U-bolt part of clamp through weldment.  Install and tighten nuts to 30 ft lb (41 Nm).
(10)
Tighten nut (1) on support bolt to 30 ft lb (41 Nm).
(11)
Remove floor jack.
4-339