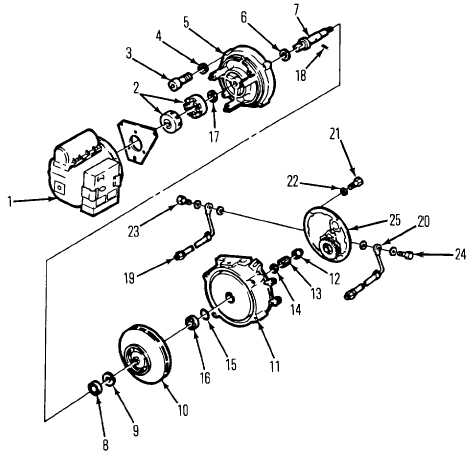 TM 5-4210-220-12
4-19.  WINTERIZATION SYSTEM - Continued
p.
Heater Fan and Fan Bearings Repair
NOTE
This can be replaced without removing complete unit from truck.
(1)
Remove motor as detailed in m. preceding.
(2)
Remove flame detector and support disc as detailed in d. preceding.
(3)  Remove fuel inlet and outlet lines (19 and 20) to fuel pump by removing banjo bolts (23 and 24)
and associated seal washers.
(4)
Remove four capscrews (21) and washers (22).  Lift off plate assembly (25) from fan housing (11).
(5)
Support fan assembly in vise.
(6)  Remove nut (12) fuel pump drive gear (13) and washer (14) from fan shaft.  Stop fan rotating by
holding wrench on clutch flat.
(7)
Remove four capscrews (3) and washers (4).
(8)  Pull blower housing (11) from motor support (5), If very tight use a puller between blower housing and
end of shaft.
4-311