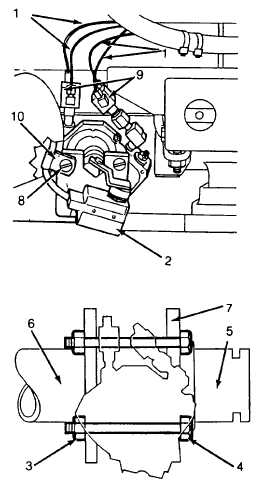 TM 5-4210-220-12
4-18.  PUMP, PIPING, AND VALVES - Continued
4-18.5  Water Tank Valve.
This task covers
a.
Removal
b.
Installation
c.
Repair
TOOLS
MATERIALS/PARTS
Shop Equipment, Automotive
14, Appendix E Gasket Eliminator
Maintenance and Repair,
22, Appendix E Pipe Sealant
NSN 4910-00-754-0705
29, Appendix E Threadlock Liquid
310591 Locknuts
EQUIPMENT CONDITION
112-B-02 Close Nipple
Water Tank Drained (see para. 2-11)
BZE6-ZRN Microswitch
All Piping Drained
S125 Shuttle Valve
Main Engine Shutdown (see para. 2-10)
V60B Actuator
APU Shutdown (see para. 2-12)
1512WM-5S Check Valve
Batteries Disconnected (see para. 4-24)
Pump Body and Hose Body Heat Shield Removed
(see para. 4-11)
REMOVAL
(1)
Make   sure   the   cab   OPERATING   MODE   switch   and
TANK VALVE switch are set to mid-position.
(2)
Make sure the structural panel TANK VALVE switch is
set to mid-position.
(3)
Tag and remove the four air lines (1) from the shuttle
valves (9).
(4)
Remove the wiring cover from the microswitch (2) Tag
and remove wires from terminals.
(5)
Remove   microswitch   wiring   support   clamp   (10)   by
removing microswitch mounting bracket screw (8).
(6)
Remove    the    four    locknuts    (3)    and    capscrews    (4)
Discard locknuts.
(7)
Separate  pipe  flanges  (5  and  6)  and  lower  the  tank
valve assembly (7).
(8)
If  a  new  valve  is  to  be  installed,  make  a  sketch  of  all
the valve fittings and their location.  Remove from the
old valve.
4-228