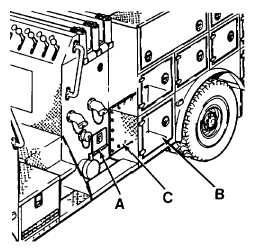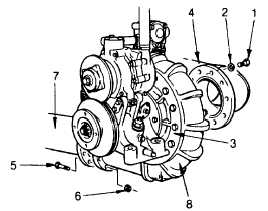 TM 5-4210-220-12
4-18.  PUMP, PIPING, AND VALVES.
4-18.1  Fire Pump.
This task covers
a.
Removal
b.
Installation
TOOLS
MATERIALS/PARTS
Shop Equipment, Automotive
2, Appendix E Antifreeze
Maintenance and Repair,
14, Appendix E Gasket Eliminator
NSN 4910-00-754-0705
20, Appendix E Penetrating Oil
310591 Locknut
EQUIPMENT CONDITION
310594 Locknut
Water Tank Drained (see para. 2-13)
51095 Pump
All Piping Drained
Main Engine Shutdown (see para. 2-10)
PERSONNEL REQUIRED - 2
APU Shutdown (see para. 2-12)
Batteries Disconnected (see para. 4-24)
Pump Body and Hose Body Heat Shields Removed (see para. 4-11)
Reducer Gear To Pump Drive Shaft Removed (see para. 4-17.3)
Winterization Heater Exhaust Removed (see para. 4-19.1)
REMOVAL
(1)  Remove pump compartment door (A).
(2)    Open  compartment  door  (B)  and  remove  all
equipment.
(3)  Remove rear plate (C).
(4)        Drain    the    primer    reservoir.        Open    the
draincock (9) on the primer housing and allow
the antifreeze to drain into a clean drain pan.
NOTE
If   the   piping   fasteners   are   excessively
corroded, apply penetrating oil (Item 20,
Appendix E) to ease disassembly.
(5)    Remove  the  capscrews  (1)  and  washers  (2)
that retain the suction tee (4) to the pump (3).
Discard the washers.
(6)  Remove the eight capscrews (5) and locknuts
(6) that retain the pump discharge elbow (7) to
the    pump    volute    body    (8).        Discard    the
locknuts.
4-216