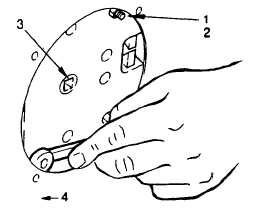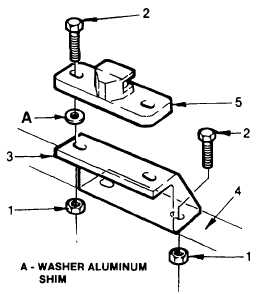 TM 5-4210-220-12
4-16 HOSE BODY - Continued
4-16.3 Compartment Door - Continued
(4)
Check the latch jaws for wear and ensure
the  latch  halves  are  intact.    Replace  as
necessary.  When ordering, the latch and
striker are ordered together.
(5)
Apply sealant (item 25, Appendix E) to the
latch mating surface.
(6)
Install  the  latch  (3)  into  the  compartment
door (4) and  aline  the  mounting  holes
Install    the  capscrews  (1)  from  the  inside
side   of   the   door   and   attach   the   new
locknuts    (2)    through    the    compartment
handle  opening   Torque  the locknuts to
8 ft lb (11 Nm).
(7)
Lubricate   latch   jaws   using   white   grease
(item 34, Appendix E).
d.
Striker and Bracket Repair.
NOTE
The  striker  and  bracket  cannot
be        repaired,    replace/adjust    as
required.
(1)
Remove    locknuts  (1)  and  capscrews  (2)
that  retain  the  striker  bracket  (3)  to  the
compartment box (4) Discard the locknuts
Access   striker   bracket   locknuts         from
Inside   adjacent compartment.
(2)
Remove  locknuts  (1)  and  capscrews  (2)
that   retain   the   striker   (5)   to   the   striker
bracket (3) Discard the locknuts
4200