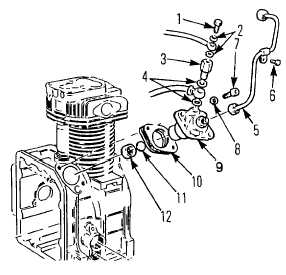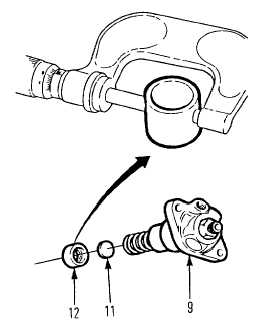 TM 5-4210-220-12
4-15.  AUXILIARY POWER UNIT - Continued
(5)
Repair    pump    as    detailed    in    REPAIR
following.
INSTALLATION
(1)
Install spacer (11) in tappet (12) and slide
over end of injector pump.
(2)
Install  machine  screws  (7) and  washers
(8) through pump flange.
(3)
Install  spacer  gaskets  (10)  over  machine
screws.
(4)
Aline pump rack pin with rack slot in block
and install injector pump in block.
(5)
Tighten  machine  screws  to  22  ft  lb  (30
Nm).
(6)
Adjust  timing  and  test  pump    as  detailed
in ADJUSTMENT and TEST preceding.
REPAIR
NOTE
Injector   pump   must   be   removed   from
block.  See REMOVAL preceding
(1)
Measure tappet (12) external diameter.  It
must    be    between    1.1016    -1.1024    in.
(27.98   mm).   If   less   or   tappet   to   guide
clearance  exceeds  0.004  in.  (0.01  mm)
replace tappet.
(2)    If  original  tappet  is  to  be  reused,  remove
any    light    marks    or    grooves    with    fine
emery cloth (Item 13, Appendix E).
(3)    Measure
thickness
of
spacer
(11)
Thickness   of   spacer   must   be   between
0.138    -    0.142    in.    (3.45    -    3.55    mm).
Measure    several    positions.        If    error
between   measurements   is   greater   than
0.004 in. (0.001 mm), replace spacer.
(4)
Any    other    fault    found    during    testing
cannot    be    repaired.        Replace    whole
injector pump.
4-159