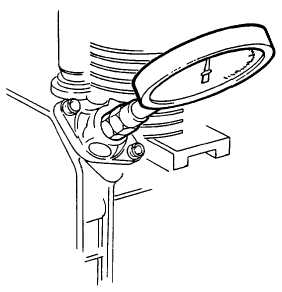 TM 5-4210-220-12
4-15.
AUXILIARY POWER  UNIT- Continued
4-15.6
Engine Injector Pump - Continued
TEST
NOTE
May be tested with APU in truck.
(1)
Remove  pressure  line  between  injection
pump and injector.
(2)
Connect a 0 - 10,000 psi (0 - 70,000 kPa)
pressure gage to delivery union.
(3)    Set   APU   keyswitch   to   ON   Check   fuel
pump starts.
(4)
Set    control    rack    to    mid-position,    APU
throttle to mid position.
(5)
Rotate
engine
through
several
revolutions, using starter motor (keyswitch
set to START), This will purge all air from
the fuel system.
(6)
While watching pressure gage, rotate engine through a complete injection cycle.
(7)
Note maximum pressure on gage.
(8)
Repeat test with control rack in fully open position, APU throttle in maximum position.
(9)
If first test pressure is less than 4000 psi (28,000 kPa) or second test pressure is less than 5500 psi (38,000
kPa) replace injector pump assembly or replace plunger and barrel (see REPAIR following).
(10)
Repeat the test and note the pressure drop that immediately follows the peak pressure reading.  Pressure
drop should be between 400 - 700 psi (2800 - 4800 kPa).
(11)
If test pressure is not reached, replace pump assembly (see REMOVAL following) or replace delivery valve
(see REPAIR following).
REMOVAL
(1)
Remove banjo bolt (1), both washers (2), banjo bolt (3), and both washers (4).
(2)
Remove high pressure injector feed line (5) and clamp retaining bolt (6).
(3)
Remove both machine screws (7) and washers (8).
(4)
Carefully withdraw injector pump (9) from block.  Take care to ensure gaskets (10), spacer (11), and tappet
(12) are removed from the block.
4-158