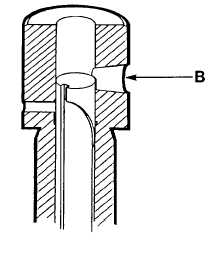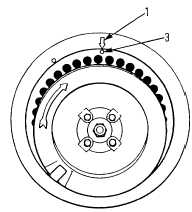 TM 5-4210-220-12
4-15.  AUXILIARY POWER UNIT - Continued
(7)
Continue  to  rotate  until  fuel  stops  spilling.    This  is  the  start  of  the  pumping  stroke.    Injector  pump  plunger  is
covering barrel feed orifice B.
(8)
Note position of dial injector (method 1) Dial gage must indicate a prestroke of 0.084 - 0.092 in.
(2.10 - 2.30 mm).
(9)
Note position of flywheel timing marks (both methods).  Mark 3 on flywheel must be alined with mark 1 on
shroud.  If fuel spilling stops earlier (timing advanced) add shims under the pump, if later (timing
retarded) remove shims.
(10)
To add  or remove  shims  under the pump, remove pump machine screws and carefully withdraw pump.
(11)
Add or withdraw shims and replace pump in crank cover.  Tighten capscrews to 20 ft lb (25 Nm).
(12)
Repeat steps 3 thru 11 as required.
(13)
If by adjusting shims, the prestroke is out of range, check camshaft (see para.  4-15.12) or repair injector
pump (see REPAIR following).
(14)
When  complete, remove tester (If installed) Replace delivery valve gasket, delivery valve spring, filler
shim, delivery union and pressure line.
(15)
Set APU keyswitch OFF.
4-157