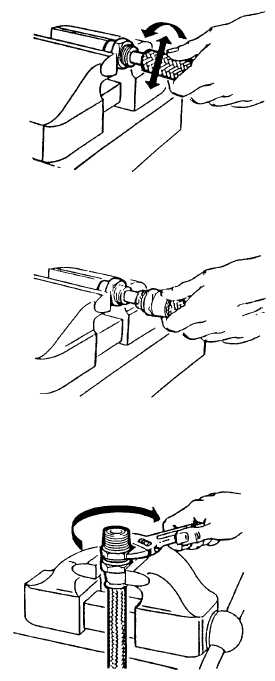 TM 5-4210-220-12
4-9.  GENERAL MAINTENANCE PROCEDURES - Continued
4-9 4   General Repair/Assembly Instructions - Continued
d
Hose Assemblies - Continued
(7)
Set   the   sleeve   barbs   into   the   Teflon   tube   by
installing the end of the sleeve and tube over the nipple and
then work the hose bore over the nipple as shown.
(8)
Lubricate   the   nipple   and   socket   threads   with
hydraulic fluid (item 9, Appendix E).
(9)
Clamp  the  nipple  hex  in  a  vise.    Push  the  hose
over  the  nipple  using  a  twisting  action  until  seated  against
nipple clamper.  Push socket forward and thread onto nipple
handtight.
(10)
Invert  hose  assembly  and  clamp  socket  in  vise.
Tighten nipple in a clockwise direction until 1/32 in. (1 mm)
clearance  between  nipple  and  socket  is  achieved.    Further
tightening is acceptable if socket and nipple hexes are to be
alined
(11)
To   prevent   any   contamination   from   new   hose
assembly,  blow  out  hose  assembly  using  compressed  air.
Rinse  inside  of  hose  with  hot  water.    Do  not  allow  water
temperature   to   exceed   180   deg.   F   (82   deg.   C).      Using
compressed air, blow out all water from hose assembly.
(12)
If new hose assembly is not going to be installed
immediately  after  installing  fittings,  cap  both  ends  to  keep
hose clean.
4-68