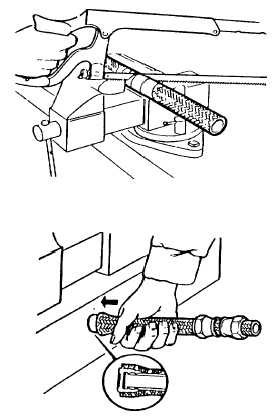 TM 5-4210-220-12
4-9   GENERAL MAINTENANCE PROCEDURES - Continued.
TEFLON HOSE - Medium Pressure (with Vacuum Service)
(1)    Carefully  examine  both  hose  end  fittings.    Discard  hose  end  fittings  if  any  sign  of  damage  is  evident.
Proceed to step 3 following, to assemble new hose assembly using new hose end fittings.
(2)    If hose end fittings are to be reused, remove from old hose.  Clamp socket in vise.  Unscrew nipple (in a
counterclockwise  direction)  and  remove.    Slide  the  socket  away  from  the  hose  end  by  tapping  on  flat  surface.    Using
pliers, pull the sleeve from hose
NOTE
It is recommended that new sleeves be used when old fitting is reused.
(3)
Wrap  teflon  hose  with  masking  tape  (item  18,
Appendix E) at cut-off area.  Using a cut-off saw or a fine-
tooth hacksaw, cut hose square to length.  Remove all tape.
Trim any extending wires flush with hose end, then remove
hose material burrs.
WARNING
Death  or  serious  injury  could  occur  if  compressed
air   is   directed   against   the   skin.      Do   not   use
compressed  air  for  cleaning  or  drying  unless  the
pressure is/has been reduced to 30 psi (2.11 kg/cm2)
or less.  When working with compressed air always
use chip guards, eye protection and other personal
protective equipment.
(4)
Using  compressed  air,  blow  out  shavings  from
hose bore.
(5)
Slip   two   sockets   onto   new   hose.      Ensure   the
sockets are back to back.
(6)
Push a sleeve over the end of the tube and under
the wire braid by hand.  Position sleeve in hose by pushing
the hose against a flat surface.  Ensure the tube stock butts
against the inside shoulder of the sleeve.
4-67