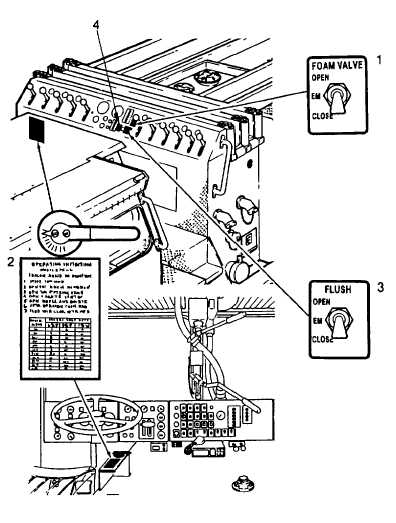 TM 5-4210-220-12
2-13.  AFTER MISSION PROCEDURES.
a.
Flushing of Foam Piping and Hoses.  After foam has been used, the foam and water pipes including fire hoses
and/or turrets must be flushed with clean water.  If necessary, drain and fill the water tank as detailed in para. 2-13 b and
2-13 c prior to flushing.
(1)
Be sure the foam tank valve (1) is CLOSED Start the fire pump in structural mode as detailed in para. 2-
11b.
(2)
Fully open the foam metering valves (2) in the cab and on the structural panel.
(3)
Set the foam flush valve switch (3) to OPEN and regulate the pump discharge pressure to 150 psi (1030
kPa) using throttle (4).
(4)
Open discharge valves and hose nozzles including the hose reel and turret nozzles in turn until clean water
discharges from each nozzle.
(5)
Shut down the firefighting system as detailed in para.  2-11 b steps 13 thru 18.
2-58