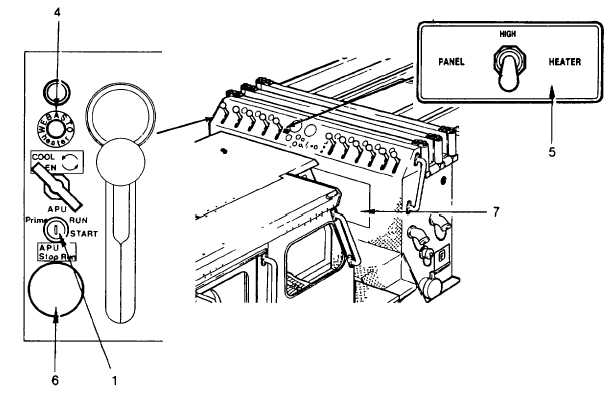 TM 5-4210-220-12
2-12.  OPERATING THE WINTERIZATION SYSTEM.  - Continued
e.
To start the Winterization Heater, pull the heater switch (4) OUT.
NOTE
The APU should always be running before the winterization heater is switched ON.
f.
Switch the pump body heater and hose reel blower switch (5) to HIGH or LOW to provide circulation of warm air
inside the pump body and hose reel compartment.
g.
Pull  the  cab  heater  control  out  to  allow  circulation  of  coolant  through  the  heater  core  and  set  the  heater  fan
switch to HI Set the DEFROST fan switch to HI to ensure circulation of hot air around cab.
h.
To switch the winterization system off, push the winterization heater switch (4) IN.
j.
Wait 3-5 minutes to let the winterization heater cool, then pull the APU stop control (6).  Turn the key switch (1)
to OFF position.
NOTE
When   responding   to   an   emergency,   start   the   main   engine   and   then   shut   down   both   the
winterization  heater  and  the  APU.    Continued  circulation  of  coolant  through  the  winterization
heater after it is shut down is necessary to cool the heater.  If not cooled adequately the thermal
breaker  may  trip  and  prevent  restart  until  the  breaker  is  manually  reset.    The  reset  button  is
located under the cover on top of the winterization heater.  Access to the cover is gained via the
pump body door (7).
2-57