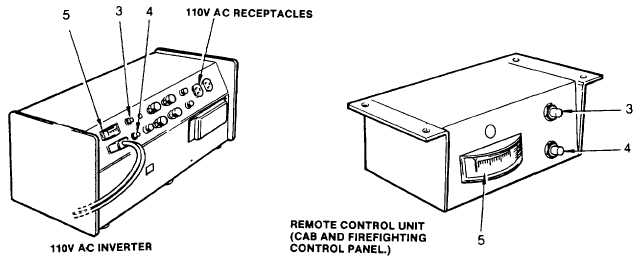 TM 5-4210-220-12
2-11.  FIREFIGHTING OPERATIONS - Continued
c.
Operating 110-Vac Auxiliary Equipment
CAUTION
To prevent damage to the 110-Vac inverter, the inverter must be energized and deenergized and
loads connected and disconnected in the sequence detailed in the following steps
(1)
Inverter  may  be  operated  with  the  fire  pump  operating,  in  this  case  carry  out  steps  3  thru  5.    If  the  fire
pump is not being operated, carry out, steps 2 thru 5.
(2)
Set mode switch (1) to STRUCT in cab Adjust hand throttle (2) on structural control panel until engine is
running at a steady 1300 rpm.
(3)
Press the ON pushbutton (3) on the control box in the cab, the inverter housing, or the control box located
on the structural control panel.
(4)    Be sure the inverter (5) voltmeter beside the control switch indicates  110 Vac, then connect the auxiliary
equipment to any of the 110-Vac receptacles.
(5)
While the auxiliary equipment is operating, monitor and maintain the inverter voltage at 110 Vac.  Adjust
the engine throttle position, if necessary, to maintain this voltage.
CAUTION
If the fire pump is required to be shut off during 110-Vac system operation, unplug all loads and
switch off inverter, shut down pump as detailed in para. 2-11 b preceding, and repeat steps 2 thru
5.
(6)
When the use of 110-Vac equipment is no longer required, switch off and unplug the equipment.
(7)
Hold OFF pushbutton (4) on any of the 110-Vac controls until voltage indicator reduces to zero.  Reduce
engine speed to idle by turning throttle (2) fully anticlockwise (unless fire pump is operating).
2-55