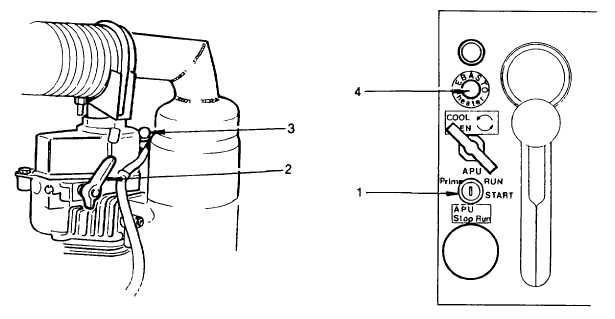 TM 5-4210-220-12
2-12.  OPERATING THE WINTERIZATION SYSTEM
Both the Winterization heater and the APU must be operated to make the system functional.
NOTE
All valves mounted on the engine should be open at all times.
a.
Turn the APU Ignition key switch (1) to RUN.
NOTE
To  reduce  the  load  on  the  starter  motor,  the  engine  compression  can  be  released  at  the  initial
starting attempt by pulling lever (2).
b.
Momentarily turn the APU switch (1) to START position until the engine fires.
NOTE
If  the  engine  fails  to  start  within  30  seconds,  release  the  switch  and  allow  the  starter  motor  to
cool  off  at  least  2  minutes.   Prime  the  APU  by  turning  the  ignition  key  switch  (1)  to  PRIME  for
about 20 seconds before the next starting attempt.
At low ambient temperatures (below 15 deg F (-10 deg C)) when the air is too cold to promote initial
combustion, an ether-type starting aid may be used.
c.
Remove the manifold plug (3) on the engine cylinder head and, using an aerosol, spray directly into the ether
port while starting the engine as normal.  Confine the spray to 1-2 seconds burst at a time.  Replace the plug when the
engine starts.
d.
By using a starting rope on the engine pulley, the engine can be started manually.  Lift the pulley cover and coil
the starting rope on the pulley.  Pull the rope to start the engine.  Reinstall the pulley cover when the engine has started.
2-56