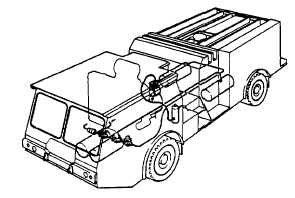 TM 5-4210-220-12
Table 2-1.  Operator Preventive Maintenance checks and Services (PMCS) - Continued
A - After Mission
D - Daily Checks
W - Weekly
Interval
Item
ITEM TO BE INSPECTED/Procedure
Equipment is not
No.
A
D
W
Ready/Available If
35
AIR TANKS
·
Open draincock on each air tank and drain any water/oil
- Any air tank contains
out of the tank.  When the air is free of spray, close
liquid water or oil.
draincock.  If a stream of water/oil comes out of the
draincock, report to Organizational Maintenance.
Check tanks and fittings for any signs of leakage, serious
- Any air tank or hose is
dents or scratches.  Report any deficiencies to
leaking.
Organizational Maintenance.
36
AIR SYSTEM
·
Check all air hoses, fittings and brake valves for signs
- Any air line is broken.
of leakage, serious dents, or scratches, cuts or
abrasions.
With the main engine running, operate the foot brake
- Air pressure in any
in the cab and ensure the brakes operate smoothly.
tank is less than 90 psi
Report any uneven or spongy action, dragging,
(620 kPa).
squealing, or chatter to Organizational Maintenance.
Check air pressure gages in cab register at least 90 psi
(620 kPa).
2-37