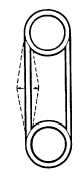 TM 5-4210-220-12
Table 2-1.  Operator Preventive Maintenance checks and Services (PMCS) - Continued
A - After Mission
D - Daily Checks
W - Weekly
Interval
Item
ITEM TO BE INSPECTED/Procedure
Equipment is not
No.
A
D
W
Ready/Available If
COOLING SYSTEM (cont.)
Examine radiator fan belts for signs of wear or
- Fan belts severely
damage.  Check belt tension.  Belt should move less
worn or missing.
than 1/2 in at midpoint between pulleys.
With the engine shut down, check the radiator fan is
- Fan blades missing.
locked to the pulley.  The fan will not rotate.  Check
that the shutter on the front of the radiator is open.
Start main engine and check shutter closes.
- Fan shutter will not
operate.
WARNING
A rotating fan can cause serious injury.  Even when
the fan clutch is disengaged the fan will rotate.  Do
not attempt to stop it rota ting.
While watching the radiator fan, have second
crewman operate FAN OVERRIDE switch in the cab.
When set to MANUAL the fan will stop when the
engine is stopped.
When set to AUTO, and the engine not at working
temperature, the fan will run on when the engine is
stopped.  Check when set to MANUAL, the shutter
opens.  Report any deficiencies to Organizational
Maintenance.
2-36