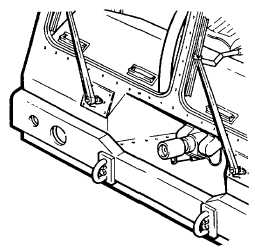 TM 5-4210-220-12
Table 2-1.  Operator Preventive Maintenance checks and Services (PMCS) - Continued
A - After Mission
D - Daily Checks
W - Weekly
Interval
Item
ITEM TO BE INSPECTED/Procedure
Equipment is not
No.
A
D
W
Ready/Available If
ROOF TURRET INSPECTION (cont.)
30
BUMPER TURRET INSPECTION
·
·
Examine bumper turret for any signs of damage.
From the cab, operate turret and check for freedom
of movement.
Move spray control lever from fog to straight stream.
- Turret or control lever
Ensure lever moves freely.
very stiff.
2-33