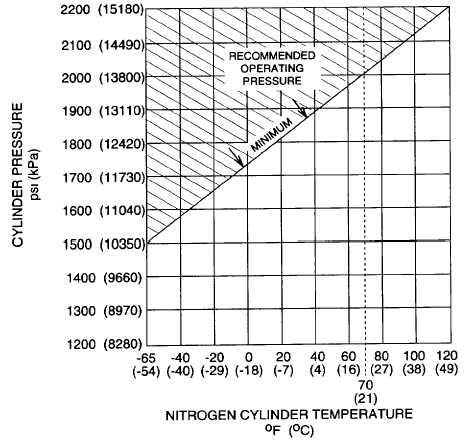 TM 10-4210-235-13
e.
For long distance, the trailer mounted extinguisher assembly (5) and auxiliary mobile hose reel cart (4) must be
loaded and secured onto a truck, trailer, or other suitable carrier
WARNING
Clothing items must be kept dry.  Steam produced by high heat can cause severe burns  f.  Be
sure  manuals,  dry  chemical  funnel,  clothing  Items,  chemicals,  and  nitrogen  cylinders  are
properly packed and secured from being lost or damaged when moving equipment.
Section IV.  OPERATION UNDER UNUSUAL CONDITIONS
2-13.  EXTREME HEAT.
a.
The Fire Suppression Equipment Set is designed to operate effectively in any tropical climate.  Shade should be
provided for the equipment and/or personnel should wear gloves as protection from hot metal surfaces  b.  The nitrogen
cylinder pressure is affected by temperature changes.  See table 2-6 for recommended operating pressures at various
temperatures.
Table 2-6.  Nitrogen Cylinder Pressure/Temperature Chart
2-53