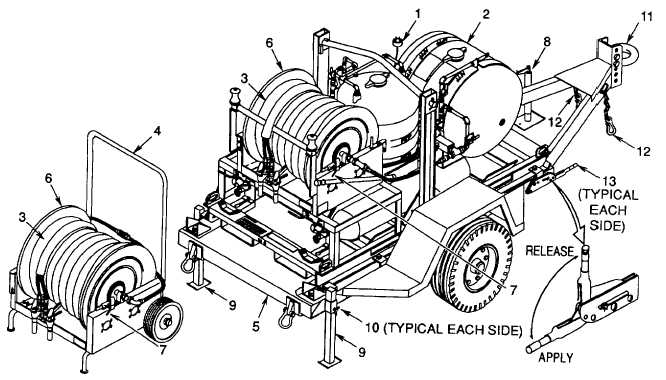 TM 10-4210-235-13
2-12. PREPARATION FOR MOVEMENT
a.
Disconnect AFFF tank heater power cord (1) from power source, if connected, and secure power cord.
b.
The AFFF tank (2) must be drained if there is a danger of freezing while moving.  Notify unit maintenance.
c.
Secure  hose  assemblies  (3)  on  both  auxiliary  mobile  hose  reel  cart  (4)  and  trailer  mounted  extinguisher
assembly (5) drums (6) and tighten rewind brakes (7) securely to prevent unwinding.
d.
The trailer mounted extinguisher assembly (5) can be towed short distances while the auxiliary mobile hose
reel cart (4) can be rolled very short distances or lifted by its frame and placed on a truck or similar vehicle.
(1)
Lower the jack (8) to remove pressure from the two rear jack stands (9).  Loosen the two handles (10) and
raise each rear jack stand.  Tighten handle into lower hole of each jack stand.
(2)
Use the jack (8) to position the lunette eye pintle (11) onto the towing vehicle.  Secure towing vehicle hitch.
(3)
Connect safety chains (12) to towing vehicle.
(4)    Retract the jack (8) completely and position from the support (vertical) position to the towing (horizontal)
position.
WARNING
Equipment  Is  provided  with  hand  brakes  only  and  is  not  equipped  with  lights  or  reflectors.
Not  intended  for  over  the  road  towing,  personal  injury  can  result.    (5)  Release  both  parking
brakes (13).  When released, vehicle can be moved.
Figure 2-24.  Preparation for Movement
2-52