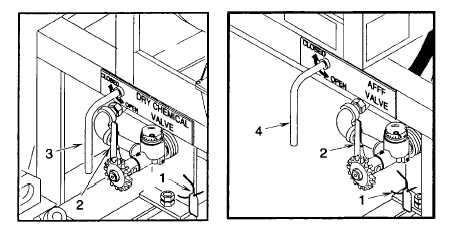 TM 10-4210-235-13
2-10.  OPERATING PROCEDURES - continued
WARNING
Do not enter berm, to avoid serious burns.
Do not disturb the AFFF blanket applied over a fire.  Disturbing the AFFF blanket by stepping
through it, spraying on it, etc.  can allow hot vapors to escape that could ignite
(6)
Approach the fire from upwind.  Lean toward fire and aim the fire hose nozzles (2) toward the left side base
of the fire.  Squeeze dry chemical fire hose nozzle valve lever (right hand) and apply dry chemical by sweeping across
base of fire to the right.  Release dry chemical fire hose nozzle valve lever and squeeze AFFF fire hose nozzle valve
lever (left hand) and apply AFFF by sweeping to the left covering dry chemical.
(7)
When headway is gained on fire, continue side by side sweeping across base of fire while alternating dry
chemical (right hand, sweep right) and covering with AFFF (left hand, sweep left) until fire is extinguished.
NOTE
Continuous flow of fire fighting agents can only be maintained for less than 2 minutes.
(8)
When the area clears, extinguish any smoldering pockets that may re-ignite the fuel.
(9)
Engineer fire fighting detachment must verify that fire is totally extinguished.
d.
Returning fire suppression equipment set to operational ready (normal) or stand-by status The fire suppression
equipment set must be returned to ready status Immediately after use.
Figure  2-15.   Close  Chemical  Agent  Shut-off Valves
2-42