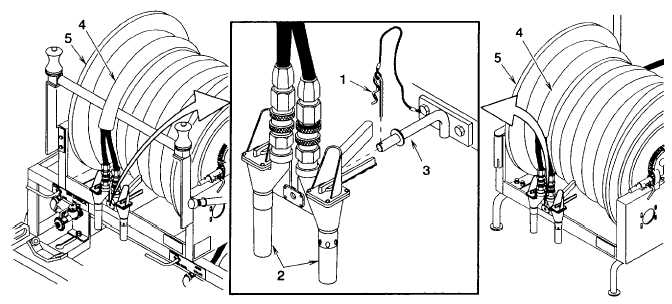 TM 10-4210-235-13
(2)    Open both nitrogen cylinder quick release valves (2) The AFFF tank will pressurize in 1-2 seconds, the dry
chemical tank should pressurize within 10 seconds.
Figure 2-13.  Nitrogen Cylinder Valves and Valve Rods Operational Setting
(3)
Rotate the dry chemical tank ball valve rod (3) and the AFFF tank ball valve rod (4) to full open position
The system hose assemblies will pressurize up to the fire hose nozzles
(4)
Remove lock pin (1) (fig.  2-14) and fire hose nozzles (2) from nozzle bracket (3)
Figure 2-14.  Unwind Hose Assembly from Drum
(5)
Pull all the hose assembly (4) from drum (5).
2-41