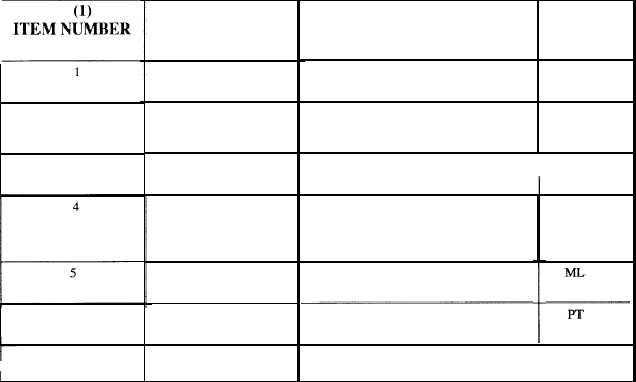 TM 750-116
APPENDIX B
EXPENDABLE SUPPLIES AND MATERIALS LIST
Section  I.  INTRODUCTION
B-1.  SCOPE.
This appendix lists expendable supplies and materials you will need to purge and charge fire control instruments. These items
are authorized to you by CTA 50-970, Expendable Items (Except Medical, Class V, Repair Parts, and Heraldic Items).
B-2.  EXPLANATION  OF  COLUMNS.
a. Column (1) - Item number.  

This number is assigned to the entry in the listing and is referenced in the narrative in-
structions to identify the material (e.g., "Use sealing compound, item ......, appendix B").
b. Column (2) - National Stock Number.  

This is the National stock number assigned to the item; use it to request or
requisition the item.
c. Column (3) - Description.  

Indicates the Federal item name and, if required, a description to identify the item. The last
line for each item indicates the Contactor and Government Entity Code (CAGEC) in parentheses followed by the part number.
d. Column (4) - Unit of Measure (U/M).

Indicates the measure used in performing the actual maintenance function.
This measure is expressed by a two-character alphabetical abbreviation (e.g., ea, in, pr). If the unit of measure differs from
the unit of issue, requisition the lowest unit of issue that will satisfy your requirements.
Section II. EXPENDABLE SUPPLIES AND MATERIALS LIST
1
2
3
6
I
7
(2)
NATIONAL STOCK
NUMBER
8105-00-150-6256
6830-00–782-2641
1240-01-189-4372
8030-00-900-2373
8030-01-166-0575
8030-00-275-8114
8520-00-228-0598
(3)
(4)
DESCRIPTION
U/M
Bag, plastic, general purpose, 44 x 32 inches
BX
Nitrogen,   technical,   oil–free,   Gas   form,
CF
(81348),   Type   1,   BB-N-411,   Grade   B,
Class 1
Lubricant (18876), MIS-23546
I
QT
Sealing Compound, Primer (05972), MIL-
OZ
S-22473,  Grade  N,  Form  R;  MIL-R-46082,
Grade  F  MIL-S-46162,  Grade  N;
764-55
Sealing Compound (05972), 567-47
Sealing  Compound,  adhesive,  noncuring,
polysulfide  base,  type  1,  (80064),  1941316
Soap,   toilet,   liquid,   l–gallon   container:   

G  L
(81348)  P-S-624
B-1  (B-2  blank)