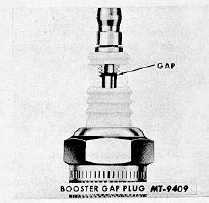 TRUCK SERVICE MANUAL
TM 5-4210-230-14&P-1
ELECTRICAL
INSTALLATION
When installing spark plugs, always be sure gasket seats and
threads are clean.
Using a torque wrench, tighten plugs to 2830 ft.  lbs.
BOOSTER GAP PLUG
For the past several years auxiliary gap (Booster Gap)
spark plugs have been used in certain IH engines,
Fig.  19
Prior   to   IH   approval,   the   Booster   Gap   design   was
thoroughly   tested   and   evaluated,   at   which   time   their   anti-
fouling characteristics were firmly established.
What
is
a
Booster
Gap
plug?
This plug has an internal

air

gap

between the center electrode
and the terminal stud.
How
do
they
work?
Most  servicemen  know  that  misfire  will  occur  when  a
conventional spark plug is fouled. As the coil attempts to build
up voltage on the "dirty" firing end, it "sees" an easier path to
ground over the deposits.  This short circuit prevents normal
voltage buildup.  The Booster Gap, however,

isolates

the coil
from the fouling deposits, allowing near normal voltage build-
up.    The  instant  the  Booster  Gap  sparks,  sufficient  voltage
appears   across   the   firing   gap   and   normal   ignition   results.
When you remove a plug wire from a fouled plug and let the
spark  jump  from  the  cable  to  the  plug  terminal  to  make  the
plug fire, you are using this same Booster Gap principle.
Where
are
Booster
Gap
plugs
used?
Maximum    benefit    from    this    design    is    obtained    in
engines that operate over a wide load and speed range.  For
example,  a  heat  range  cool  enough  for  highway  service  will
have  better  fouling  protection  during  stop-start  city  delivery
service with the Booster Gap.
Furthermore, the Booster Gap has been instrumental in
reducing the complaints of "break-in fouling" in new engines.
In   many   cases   misfire   due   to   oil   fouling   in   older
engines  can  be  relieved  simply  by  using  the  recommended
heat range plug incorporating a Booster Gap.
A
cure
-
all?
Not
at
all.
Booster
Gap
plugs
used
where
recommended  and  applicable  to  help  solve  fouling  problems
will  give  excellent  results.  However,  the  need  for  the  correct
selection  of  plugs  in  the  proper  heat  range  based  on  type  of
vehicle operation is important.
Where more severe conditions of fouling as a result of
light service application or break-in fouling on engines occurs,
the alternate recommended hotter type plug with Booster Gap
should be used.
Voltage
Requirements
While    nominal    in    amount,    the    Booster    Gap    does
require  more  voltage  

initially

 than  conventional  spark  plugs.
This   higher   requirement   diminishes,   however,   after   several
thousand miles of use.
Most   any   ignition   system   has   more   than   adequate
reserve  to  supply  the  bit  of  extra  voltage  requirement;  if  you
experience   misfiring   with   Booster   Gap   plugs   and   not   with
conventional    plugs,    chances    are    the    ignition    system    is
marginal.
It  should  also  be  pointed  out  that  Booster  Gap  plugs
are  

not

 resistor  plugs.    If  radio  interference  is  a  problem  on
older  vehicles  having  nonresistor  ignition  cables,  it  may  be
necessary  to  install  resistance  leads  (cables).  Booster  Gap
plugs may be used in conjunction with resistance-type ignition
cables  to  obtain  interference  suppression  and  still  obtain  the
added  benefits  of  the  Booster  Gap.    This  is  the  combination
that  is  recommended  on  all  gasoline  powered  motor  truck
engines.
CTS-2016-J  Page 8
PRINTED IN UNITED STATES OF AMERICA