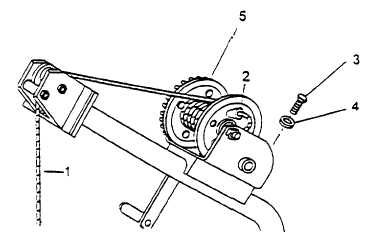 TM 5-4210-218-13&P
4-10  

WINCH

ASSEMBLY

REPLACEMENT

.  (Refer to Figure 4-2)
This task covers:
a.
Removal
b.
Installation
INITIAL SETUP:
Equipment
Conditions
Tools
Reference
General Mechanics Tool Box, Item 1, Section
Cover removed from Recovery /
III, Appendix B
Recharger Unit; paragraph 2-6.1
Materials/Parts
Air supply disconnected, paragraph 2-7
Self-locking nuts
Winch assembly
4-10.1  

Removal

.
NOTE
Make note of how cable is threaded for use at reinstallation
a.
Strip cable (1) by loosening two nuts (2) securing cable clamp to winch drum.  Retain cable for reuse.
b.
Remove two bolts (3) and washers (4) and lift winch assembly (5) off hoist column mounting block.
4-10.2  

Installation

.
a.
Position winch assembly (5) on hoist column mounting block and secure with two washers (4) and bolts (3).
b.
Position cable (1) on winch drum, thread according to notes made at removal and secure by tightening two nuts
(2) and wind cable until about two feet extend beyond pulley assembly.
Figure 4-2.  Winch Assembly Replacement
4-9