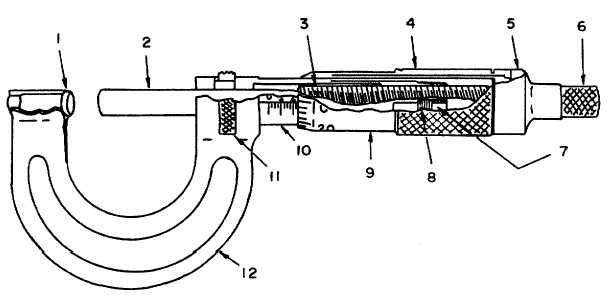 TM 9-254
4-2.
Use of Gages.
a.
General
.
This  section  contains  general  information  about  micrometers  and  feeler  gages.    A  more  detailed
explanation concerning use and operation of these and other types of gages is contained in TM 9-243, Use and Care of
Handtools and Measuring Tools.
b.
Micrometer
(fig
.
4
-
7)
.
Micrometers are used for measurements requiring precise accuracy.  The micrometer
screw (3) has a pitch of 40 threads to the inch; in other words, if a screw is turned  forty  times,  it  moves  the  spindle  (2)
exactly  1  inch  either  towards  or  away  from  the  anvil  (1).    A  clockwise  turn  moves  the  spindle  toward  the  anvil.    A
counterclockwise turn moves the spindle away from the anvil or opens the micrometer.
(1)
The revolution line along the barrel (10) illustrated in (fig. 4-8), is 1 inch long and is divided into ten equal
parts, indicated by numbered graduations.  The unnumbered graduations in turn divide each numbered
graduation into four equal parts.
(2)
Assume   that   the   thimble   is   turned   counterclockwise   from   completely   closed   position   until   the   first
numbered  graduation  is  reached.    The  thimble  will  have  turned  four  full  revolutions  and  moved  a
distance of 0.100 inch (1/10 inch).  Each unnumbered graduation is 0.025 of an inch along the revolution
line.  Each complete revolution of the thimble moves it this distance.
KEY to figure 4-7:
1.
Anvil
7.
Adjustment nut
2.
Spindle
8.
Slotted nut
3.
Micrometer screw
9.
Thimble
4.
Thimble sleeve
10.
Barrel
5.
Thimble cap
11.
Clamp ring
6.
Ratchet stop
12.
Frame
Figure 4-7.  Micrometer Caliper - Cutaway View
4-7