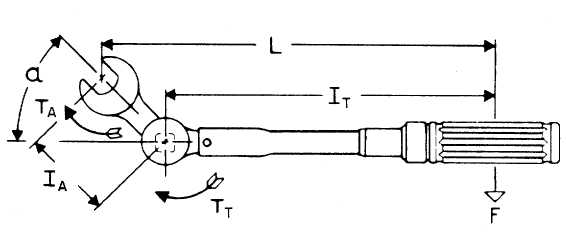 TM 9-254
4-1.
Torque Wrench - Continued
Figure 4-6. Torque Wrench - Angled Extension
(2)
When an extension adapter is used as shown in figure 4-6.
Let:
F
=
Force (pounds)
IT
=
Wrench length (inches) measured from the middle of handle to the center of the tang
IA
=
Extension length (inches) measured from center of socket to center of drive square
L
=
Effective lever length
L
=
IT
x IA cos a (or measure as shown)
(3)
To find torque setting (TT) when desired amount of torque exerted at extension (TA) is known.
EQUATION
TT
= TA X IT
L
(4)
To find torque exerted at extension for a particular torque setting.
EQUATION
TA=TT
X L
IT
e.
Torque Unit Conversion.  When checking the specified torque of a bolt, it may be necessary, because of the
torque  wrench  calibration,  to  convert  torque  units  from  one  to  another  (foot-pounds  to  inch-ounces).    This  can  be  done
readily using table 4-1.
4-5