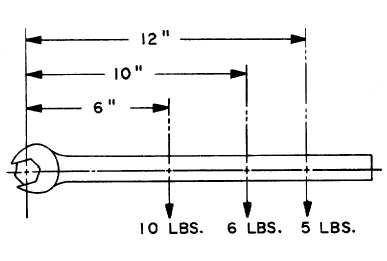 TM 9-254
4-1.
Torque Wrench - Continued
(2)
Since  it  is  known  that  distance  times  force  will  give  us  the  torque  of  a  given  application  it  is  a  simple
matter to turn the formula around and build a tool for a known torque requirement (fig. 4-2).  Using the
same example and knowing only the torque requirements of a tool:  60 inch-pounds = L x F
Figure 4-2. Length vs Force - Torque
(3)
We know that the tool can have a leverage of 10 inches with a 6 pound pull, 12 inches with a 5 pound
pull, or even 6 inches with a 10 pound pull.  The tool can be built to fit the application whether a long or
short lever is required, a curved lever to fit a hard-to-reach fastener, a self-contained tool or one that will
take many adapters or accessories.
c.
Use
of
a
Torque
Wrench
(fig
.
4
-
3)
.  A torque wrench must be used when manuals call out torque on a nut or
bolt.
CAUTION
Do not use a torque wrench to loosen nuts or bolts.  This will damage the wrench.
(1)
Threads should be clean, free of burrs, and lubricated before torquing.  Use a little light lubricating oil or
anti-seize compound.
NOTE
Use a wrench to make sure bolt or nut is snug. Then use the torque wrench.
(2)
When torquing, the hand should be in center of handle (1) as shown and not too far in (2), or too far out
(3).
4-2