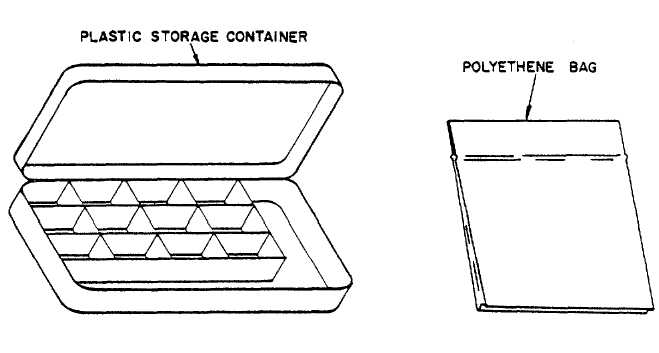 TM 9-254
Section VII.  SAFE STORAGE OF LOOSE PARTS
3-15.
General.
During  disassembly  and  assembly  operations,  temporary  preservation  procedures  are  required  in  order  to  protect  parts
from contamination and corrosion  Small loose parts from units that are disassembled should be kept in a plastic storage
container.  Larger assemblies should have all openings covered with lens paper, and sealed with tape to prevent entrance
of airborne dirt and moisture.
3-16.
Storage Containers.
a.
Plastic
Storage
Container
(fig
.
3
-
44)
.    When  units  are  being  disassembled,  loose  parts  from  these  units
should be placed in plastic storage containers in a logical order of disassembly.  Use a separate storage container for each
assembly or subassembly and label each tray.
(1)
Use plastic storage containers with a top if available, to keep loose parts separate and in order so that
reassembly may be made easier.
(2)
If mechanical parts are to be stored in the trays for a few days before assembly, do not remove the old
grease.  A perfectly clean metal will corrode.
(3)
Optics which are being held for inspection or installation should be covered with lens paper and sealed in
polyethylene bags.
(4)
Store the plastic storage containers containing parts in a safe area where they will not be lost or knocked
over.
b.
Polyethylene Bags (fig. 3-44).  If plastic storage containers are not available, store loose parts in various sizes
of polyethylene bags.  Label bags to indicate order of disassembly.
Figure 3-44.  Storage Containers for loose parts
3-42