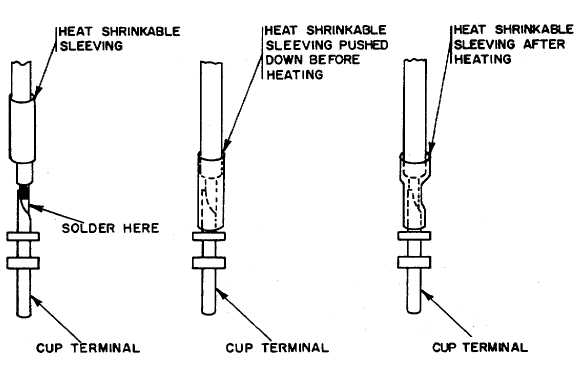 TM 9-254
3-13.
Using Expendables - Continued
(1)
Determine the appropriate size of heat shrinkable sleeving necessary to do the job.
(2)
Slide the heat shrinkable sleeving over the wire before inserting the wire into the cup terminal.
(3)
Solder wire to cup terminal using soldering techniques described in chapter 4.
(4)
Slide  heat  shrinkable  sleeving  down  wire  until  it  covers  all  bare  wire  and  the  upper  port  of  the  cup
terminal.
CAUTION
Apply only enough heat to shrink the sleeving to conform to the shape of the joint. Over heating of
the heat shrinkable sleeving will cause it to melt and tear.
(5)
Use a heat gun or hair dryer to apply heat to the heat shrinkable sleeving for approximately 4 seconds.
(6)
Allow heat shrinkable  sleeving  to  cool  and  inspect  for  a  snug  fit  against  the  joint.    If  necessary  repeat
step (5) above to a snug fit.
Figure 3-43.  Use of Heat Shrinkable Sleeving
3-14.
Storing Expendables.
Close all containers tightly when they  are  not  being  used.    Keep  container  labels  clean  so  that  they  can  be  easily  read.
Store flammable materials in an approved metal cabinet and away from heat sources.
3-41