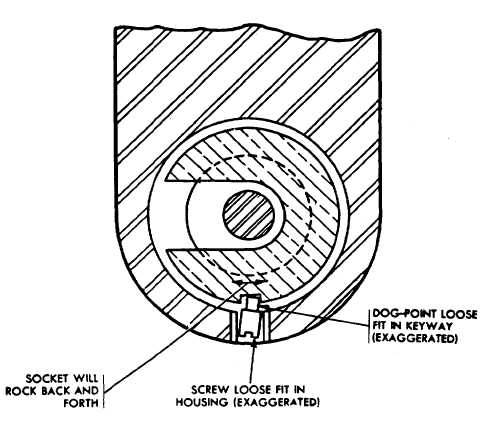 TM 9-254
3-7.
Worm and Worm Gear Mechanisms - Continued
h.
Clicking
.
(1)
This is something that can be felt when the worm knob is held between  the  thumb  and  forefinger  and
turned back and forth a few mils.  Every time the rotation of the knob is reversed, the movement is loose
for  a  short  distance  (1  to  3  mils)  until  a  click  or  bump  is  felt  in  the  knob  when  the  lost  motion  has
reached  its  limit.    The  reason  for  this  is  that  the  dog-point  screw  fits  loosely  in  the  threads  of  the
housing, or in the groove of the socket, or a combination of both (fig. 3-23).  Every time the motion of the
knob is reversed the socket will move in the housing until the dog-point screw has cocked over to the
other  side.    Once  it  is  started,  this  clicking  will  grow  progressively  worse.    This  condition  cannot  be
permitted because the loose spot is always at the setting point.  Turn the knob in the opposite direction
from which it was brought to the setting point, or fire the gun, and the instrument will be off the target.
This loose spot in the movement is not lost motion which affects the accuracy of the instrument, but it
makes the instrument unreliable because it will not hold a set reading.  If this condition is found in an
elevation  or  cross-leveling  movement,  watch  the  level  vial  bubble  move  off  center  when  the  knob  is
moved between the limits of the loose portion.
Figure 3-23.  Dog-Point Screw Loose In Housing
3-20