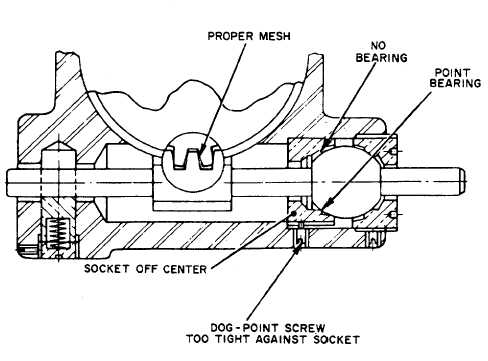 TM 9-254
3-7.
Worm and Worm Gear Mechanisms - Continued
g.
Chatter
.  A chattering movement is usually an indication of a  tight  ball  cap  (fig.  3-15).    If  adjustment  of  the
socket and ring does not cure the trouble without producing excessive backlash, the trouble is elsewhere.
(1)
The ball may be out-of-round or the socket and seat may not be properly lapped in.
(2)
The plunger spring (fig. 3-15) may be too tight or the worm not lubricated.
(3)
The dog-point screw, which keeps the ball socket from turning in the housing, may be too tight against
the  socket  (fig.  3-22).    The  socket  should  be  a  slip  fit  in  the  housing.    When  the  ball  cap  is  brought
against  the  ball,  the  socket  will  center  itself  on  the  ball,  unless  the  dog-point  screw  or  pin  prevents  it
from doing so.  When the socket is placed in the housing, see that the dog-point of the screw or pin is in
the groove in the socket and that the socket is not binding in the housing.  After the ball cap has been
properly adjusted against the ball, adjust the dog-point screw until it touches the socket and then back it
out about 1/4 turn.  If the screw is tight against the socket, it  is  forcing  the  socket  off  center,  thereby,
producing a rough or chattering movement.
Figure 3-22.  Dog-Point Screw Tight Against Socket
3-19