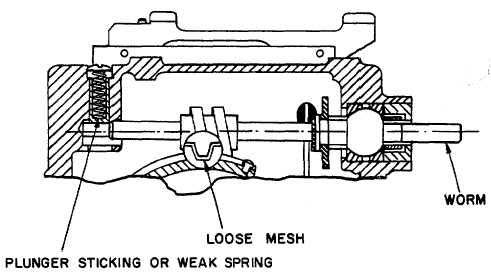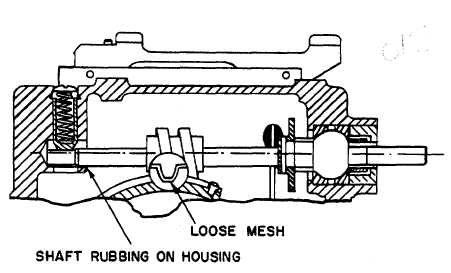 TM 9-254
3-7.
Worm and Worm Gear Mechanisms - Continued
It may be due to burrs or irregularities on the plunger or its housing which do not permit the plunger to bear
firmly on the wormshaft .  It may be due to the fact that the worm and worm gear are so badly worn that the
wormshaft bears on its housing and the worm is prevented from meshing fully with the worm gear (fig. 3-18).
It may also be due to improper clearance between the micrometer or handwheel and the housing (fig. 3-19).
The lost motion, or slack, may also result from bottoming which prevents full mesh of the teeth.  Bottoming is
the condition which exists when the crests of the teeth of one member bear in the troughs of the other (fig. 3-
20).
Figure 3-17.  Plunger Sticking or Weak Spring
Figure 3-18.  Shaft Rubbing on Housing
3-16