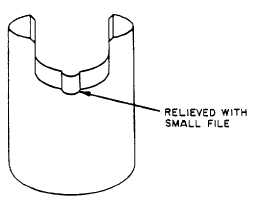 TM 9-254
3-7.
Worm and Worm Gear Mechanism - Continued
(5)
After  lapping  has  been  completed,  remove  the  worm  gear  mechanism  from  the  housing.    Thoroughly
wash all parts in cleaning solvent to remove the lapping compound.  Place the wormshaft in a lathe and
increase  the  radius  on  the  corners  of  the  worm  thread.    This  is  done  to  allow  the  worm  to  move  into
proper mesh as the movement wears.
Figure 3-16.  Point of Relief for Plunger
f.
Backlash.
(1)
Backlash is one of the main factors contributing to the malfunctioning of the moving mechanical parts in
fire  control  instruments.    It  is  free  play  or  movement  of  the  driving  member  without  corresponding
movement of the driven member.  The  total  absence  of  backlash  is  the  ideal  condition  for  fire  control
instruments.    It  is  well  known,  however,  that  small  amounts  of  backlash  must  be  present  in  order  to
obtain smoothly functioning and operable mechanical movements.  Tolerance limits for backlash have,
therefore,  been  established  for  the  various  instruments.    These  limits  can  be  found  in  the  pertinent
technical manuals and rebuild standards.  There are many causes for backlash.  The most prevalent are
looseness in gear meshes, end play in shafts, side play in bearings, and binding in bearing surfaces.  In
many cases it will be found that total backlash is a result of a combination of these causes.
(2)
The inspection for backlash in fire control instruments is primarily a means for determining the angular
distance through which the driving member (worm) of a mechanism moves before causing movement of
the   driven   member   (worm   gear).      The   types   of   mechanisms   usually   encountered   are   azimuth
mechanisms, elevation mechanisms, angle-of-site mechanisms, and cross-leveling mechanisms.
(3)
Looseness  in  gear  meshes  is  a  type  of  backlash  due  to  the  slack  or  looseness  between  the  mating
members of a mechanism.  To use the example of the worm and worm gear, a close mesh of the worm
with the teeth of the worm gear is obtained by means of pressure against the wormshaft from a spring
and plunger (fig. 3-15).  If the teeth are not firmly in mesh, there may be rotation of the worm without a
corresponding movement of the worm gear.  This condition may be due to a weak plunger spring which
does not force the worm all the way in or which permits it to ride out instead of turning the worm gear
(fig. 3-17).
3-15