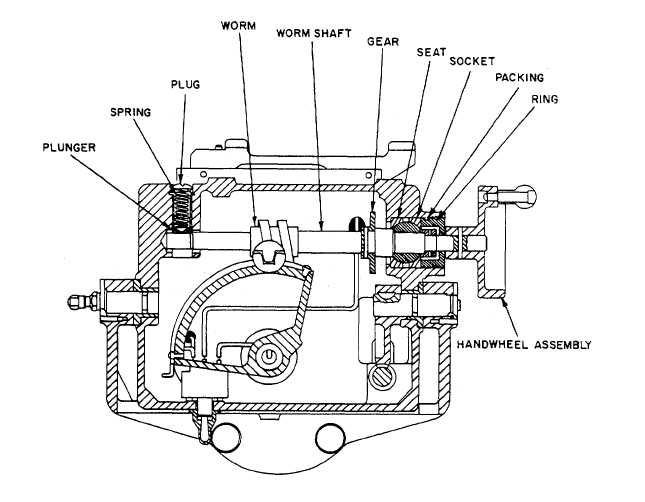 TM 9-254
3-7.
Worm and Worm Gear Mechanisms - Continued
b.
Maintenance
of
Wormshaft
.  For a wormshaft to operate properly, the shaft itself must be absolutely true and
straight, to prevent the worm from being thrown off center at each revolution of the shaft and causing a binding movement
in  the  worm  and  worm  gear  mechanism.    If  such  binding  occurs,  it  is  frequently  due  to  a  bend  or,  more  often,  several
bends in the shaft.  In such cases, the entire wormshaft should be replaced.  It may sometimes be necessary to locate and
straighten  these  bends.    This  process  involves  much  skill  and  the  ability  to  select  from  a  wide  variety  of  methods  best
suited to the particular condition found.  No specific procedure can be outlined.  Generally, the entire length of the shaft
must be continually tested during the straightening process and the shaft must be straightened to a point where the worm
thread will be no more than 0.001 inch off center when the shaft is rotated in its bearings.  Care must be taken to avoid
damaging the worm thread or any of the bearing surfaces while straightening the wormshaft.
Figure 3-15.  Typical Worm and Worm Gear Mechanism
c.
Maintenance
of
Wormshaft
Ball
.      The   wormshaft   ball   plays   an   important   part   in   obtaining   a   smooth
nonbinding movement free from backlash therefore, the ball must be perfectly round.  An out-of-round ball provides a poor
bearing surface and will cause binding in the throwout mechanism, as well as being a source of backlash trouble.
3-13